Radiculopathy (Pinched Nerves)
A pinched nerve (or nerves) along your spinal column can cause radiating pain, weakness, numbness and tingling that travels from your lower back and hip into your legs, buttocks, and feet, or from your neck into your shoulders, arms and hands.
This condition, called radiculopathy, may be caused by a number of bone and tissue problems along the neck (cervical spine), upper to mid-level (thoracic spine) or lower back (lumbar spine).
Lumbar radiculopathy, also known as sciatica, originates along the sciatic nerve, which extends from the back of your pelvis down the back of your thigh. Your sciatic nerve is the main nerve in your leg, and the largest nerve in your entire body.
Dr. C.J. Berg works closely with patients to identify the source of their pain and discomfort and seek solutions for resolving chronic neck and back issues. A board-certified neurosurgeon, with more than 8 years of experience in military leadership positions (including neurosurgical consultant to the U.S. Air Force Surgeon General), and a Healthcare MBA, he approaches each situation with a broad knowledge base and a commitment to beginning with the least aggressive, and most effective, treatments possible.
Patient Testimonial
Common Symptoms of Radiculopathy (Pinched Nerves)
Common radiculopathy symptoms include pain, weakness, numbness and tingling.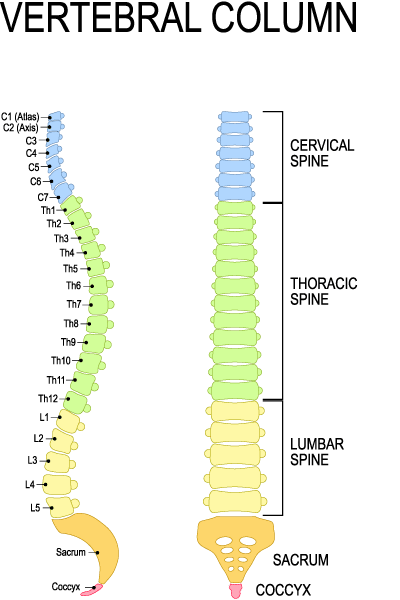 Damage at different levels of the lower spine (lumbar) can affect different areas:
L2 injury – thigh pain and hip weakness
L3 injury – thigh pain, knee and thigh weakness
L4 injury – pain from lower back to foot and foot weakness
L5 injury – pain from outer leg to top of foot and foot weakness
S1 injury – pain from calf to outer foot and foot weakness
Damage at three different levels of the cervical spine (neck) can show up in different areas:
C5 – pain and weakness in the shoulder and upper arm
C6 – pain in the shoulder and arm and arm weakness
C7 – pain in the neck all the way down to the hand, along with arm and hand weakness
Diagnosing Radiculopathy
In order to find the right fix for the right patient, diagnosis is key. Because neurological complaints often do not present as physical exam findings, it's important to get a thorough patient history to ensure that the description of pain and other symptoms coincides with imaging and other diagnostic tests.
Dr. Berg will ask a series of detailed questions:
How long has the pain been there?
Did the pain start in the neck and move into the arm after a few months?
Has the pain always been in the arm?
Is it a burning pain? Is it electric? Is it a deep ache?
He will then correlate the patient's history with the description of their complaints, and review imaging findings. If a problem shows up in imaging, and it isn't the cause of the chronic complaint, then the patient's initial issue won't be resolved with surgical treatment that addresses an unrelated diagnosis.
Contact Dr. Berg's office today to learn more about treatment for pinched nerves and schedule a consultation.
Treating Pinched Nerve Symptoms
Radiculopathy symptoms can often be managed conservatively with nonsurgical treatments. Dr. Berg will always start with the least aggressive options. A trial of conservative treatment may start with:
Physical therapy
Anti-inflammatory medications
Rest
The next level of treatment may include:
Spinal injections
Chiropractic manipulation
Acupuncture
Other non-surgical options
The Right Radiculopathy Surgery for the Right Patient
If all else fails, Dr. Berg will discuss surgical treatment based on a patient's problem and the extent of disease progression.
Getting the surgery you need to resolve an acute issue does not necessarily put you on a path for more spinal surgeries. The right surgery can eliminate the problem permanently so you can get back to living life as soon as possible.
Surgical options for treating pinched nerve pain:
Decompression – A decompression, or discectomy, which is often a minimally invasive procedure, removes bone, disc, and/or ligament to alleviate the pressure on the nerves that is causing the radiating pain and discomfort.
Decompression with fusion – When the disease is more extensive, or there is evidence of instability, a surgeon will add a fusion component, such as titanium cages, plates, screws and rods, to fuse bone segments together and make them stable.
Radiculopathy Surgery and Recovery: What to Expect
Dr. Berg wants patients to be able to return home as quickly as possible to recover in the comfort of their own surroundings.
Most surgeries for treating pinched nerve pain symptoms are outpatient or require just an overnight stay in the hospital. Outpatient surgeries may be done at a hospital or an outpatient surgery center.
Post-surgery:
Most patients will have weightlifting restrictions, and some light activity restrictions, for several weeks.
Most patients are ready to resume all activities without restrictions after two or three months.
A spinal fusion may require a brace for a few weeks after surgery.
Dr. Berg will monitor progress as patients gradually increase physical activity.
Most patients are off pain medications within two weeks.
Dr. Berg will follow up at one-month, three-month, and 12-month intervals.
Radiculopathy (Pinched Nerve) Treatment in Columbus, Ohio
Dr. C.J. Berg is a board-certified neurosurgeon with a mission to revolutionize the way spine health is viewed, managed, and treated. He is committed to getting to the root cause of chronic neck and back pain so that he can diagnose accurately and treat effectively, utilizing the least invasive surgical (and nonsurgical) techniques and the most advanced recovery methods to allow patients to get back to living their lives as soon as possible. To schedule a consultation, please call (614) 468-5333 or book an appointment online.
What causes Pinched Nerves?
Radicular nerve pain may originate from, and be aggravated by, several conditions:
Herniated, or ruptured disc – when a vertebral disc ruptures, it can put pressure on thoracic, lumbar, or cervical nerves, and cause numbness and pain.
Degenerative disc disease – degeneration can weaken a disc, in any section of the spine, which causes bones above and below to shift out of position and pinch nerve roots.
Stenosis – a collapsed disc, bone spur, cyst, or other changes in the spine, can cause the spinal canal to narrow and put pressure on nerve roots.